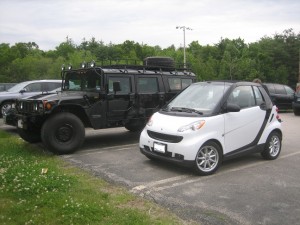 Less than a month after General Motors extended its contract to sell its Hummer brand to China's Tengzhong automaker, The General has announced that it will not complete the deal. According to a statement released to the media Wednesday afternoon, GM will permanently wind down the off-road division as a result.

GM shut down its Pontiac and Saturn brands last year, and sold off Saab a few weeks ago.

"One year ago, General Motors announced that we were going to divest HUMMER, as part of focusing our efforts on Chevrolet, Buick, GMC and Cadillac going forward. We have since considered a number of possibilities for HUMMER along the way, and we are disappointed that the deal with Tengzhong could not be completed," said John Smith GM vice president of corporate planning and alliances.

"GM will now work closely with HUMMER employees, dealers and suppliers to wind down the business in an orderly and responsible manner."

GM says it will continue to provide Hummer parts and service to customers around the globe. All Hummer warranties will continue to be honored.
http://www.leftlanenews.com/gm-to-shut-down-hummer.html
It's about time. These things were'nt worth the rubber they drove on.